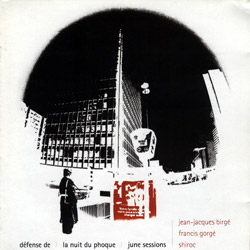 Un des sommets de l'impro mêlant électronique et électricité ressort : c'est le moment de juger sur pièces cet opus culte dont l'influence est revendiquée par Nurse With Wound.
Jean-Jacques Birgé and Francis Gorgé began their musical collaboration in 1970, and produced the first rock concert of their high school, at Lycée Claude Bernard in Paris.
Défense de was their first album before founding Un Drame Musical Instantané in 1976, with Bernard Vitet. Two of the bonus tracks were intended to be index 2 and 4 on the album, but Birgé and Gorgé met Shiroc a few weeks later and these two tracks were replaced and completely forgotten until the MIO reissue.
The four initial pieces were recorded in Sebastien Bernard's family apartment. Bernard was free jazz producer, where his father kept a lot of beautiful instruments (a pipe organ, an electric piano, a xylophone, a cello, etc.) and an 8-track tape recorder. Antoine Duvernet, another schoolmate who later played with Urban Sax, passed by on a sunny afternoon and added the tenor sax parts. The two new pieces with Shiroc and Bucchi were recorded live in studio months later.
Birgé and Gorgé played many concerts in the next year as a trio with Shiroc, and sometimes as a quartet with Gilles Rollet (also on percussion).
Over the years, the album Défense de became a highly sought-after cult object. We are thrilled to have it now on CD, with four unreleased bonus tracks only recently discovered in the Drame's archives.
édité par : miorecords
Vous pouvez commander cet album sur le site les allumés du jazz


Best review :
another world of sound
les photos de concert 1975
Photos : Thierry Dehesdin

---